Outsourcing Engineering Recruitment to meet Nitaqat Rules.
Around since 1985, Saudi Arabian, 'Nitaqat' or 'Saudization' rules have governed how recruitment processes are conducted within key industry sectors. The change, made by the Ministry for Labor Law, saw new employment legislation, requiring a percentage (20%-30%) of Saudi nationals to be recruited within national and international organizations operating in the Kingdom.
Sometimes the most viable way of handling these employment regulations is by outsourcing your recruitment to peo service organisations to meet Nitaqat rules.
Nitaqat is only part of Saudi's Vision 2030 plan but it still plays a vital role in developing career prospects for local nationals who are finding it difficult to gain employment in many sectors. The plan also aims to provide career options to those wanting to pursue further education in specialist roles.
In January of this year, a new employment directive was launched, extending Nitaqat rules to Saudi's engineering sector. Originally focused on some retail and wholesale sectors of Saudi industries, this new directive is now defining how recruitment is conducted in all areas of engineering within the Kingdom.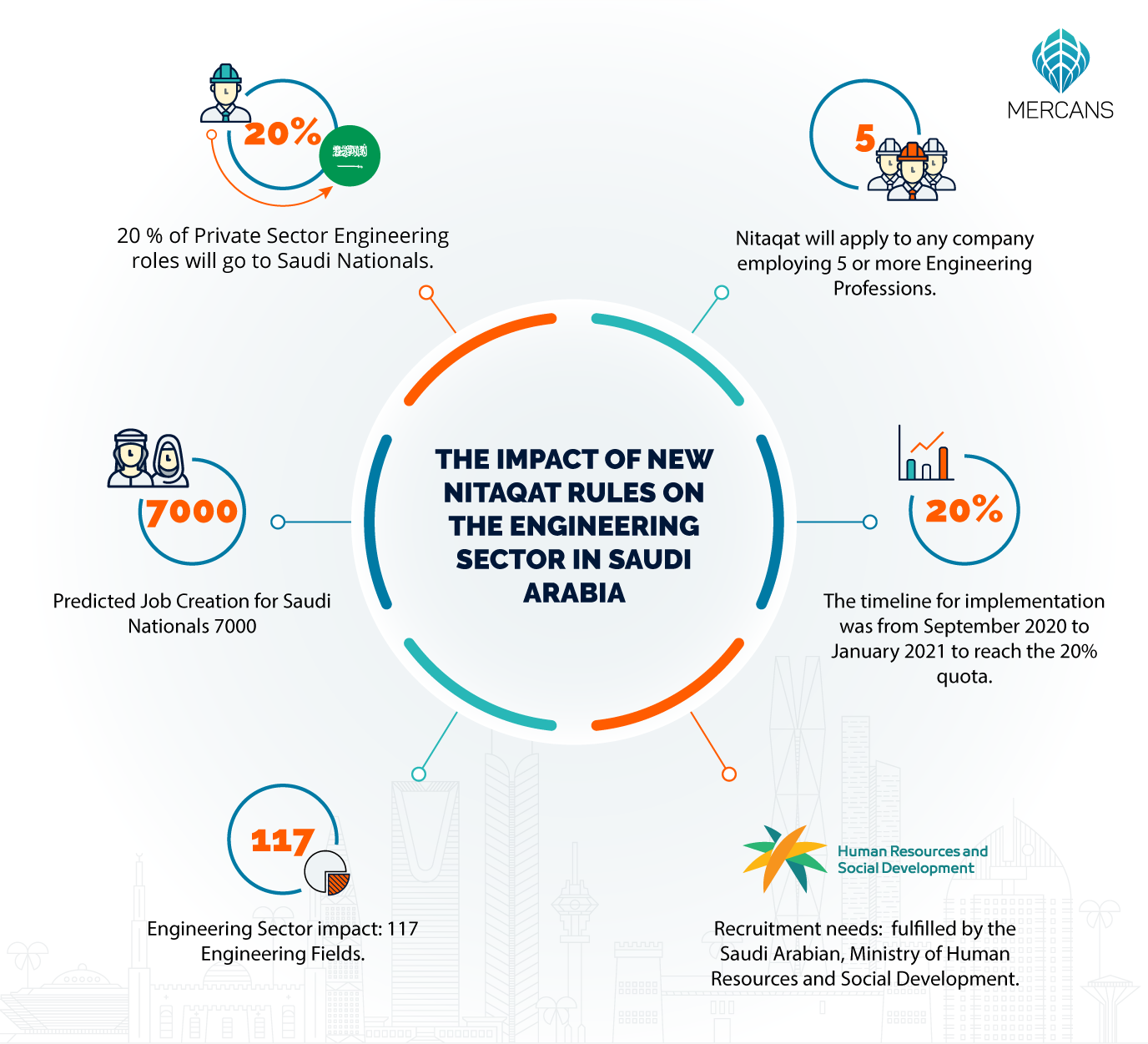 Where has this left International Engineering Companies looking to recruit?
Nitaqat has raised concerns with many engineering companies operating in the region trying to meet their 20% Nitaqat employment quotas. There's no doubt Saudization has created many challenges for these private engineering companies. Many of which would have traditionally employed five or more skilled foreign workers on a contractual or permanent basis.
The biggest problems foreign engineering companies face when expanding is the lack of knowledge and insights in local business customs and employment legislation in the region. Below are some very important things to consider when looking to Saudi Arabia for engineering opportunities.
You need to outsource your engineering recruitment needs to a trusted global recruitment process outsourcing company. One who has the on-the-ground resources and expertise of local business customs and employment legislation.
80% of the Saudi population only speak the native language so it's recommended that you use specialist professional employer outsourcing services who have superior local knowledge and linguistic resources at their disposal.
Localization is key, all business documentation & collateral must be available in the national language, as most foreign languages tend to be ignored.
Identifying key decision makers is vital in order to move business recruitment processes forward rapidly. Working with a global human resource outsourcing partner, experienced in international talent acquisition, gives your company a distinct advantage in acquiring the right balance of global and indigenous talent meeting Nitaqat rules.
What Mercans can offer you as a Global Recruitment Partner?
Mercans is a global professional organization (PEO) which also provides global employment outsourcing services. With the exclusion of aggregator services, Mercans ensures complete local compliance thanks to a valuable chain of in-country experts and innovative HR technology allowing your business to scale rapidly overseas.
At Mercans we have the flexibility in customizing any of services to suit your operational needs from a wide range of existing services that we currently offer. Whether it be Global Payroll Outsourcing, PEO GEO Services, Global Talent Acquisition, Business Process Outsourcing, Deployment of our own in-house, efficiency driven suite of HR software solutions, or a complete human resource outsourcing service, Mercans can meet all your HR expectations.
With Nitaqat quotas now in place, recruitment in Saudi Arabia's engineering sector has changed how, both foreign and national companies will recruit going forward. Knowing local business customs, where to interact and how to recruit the right talent for your engineering operation is key to defining your business credibility in the region.
Contact one of the Mercans offices today to find out more about how we can help develop your business visibility overseas. We have in-country experts ready to help your talent acquisition needs.