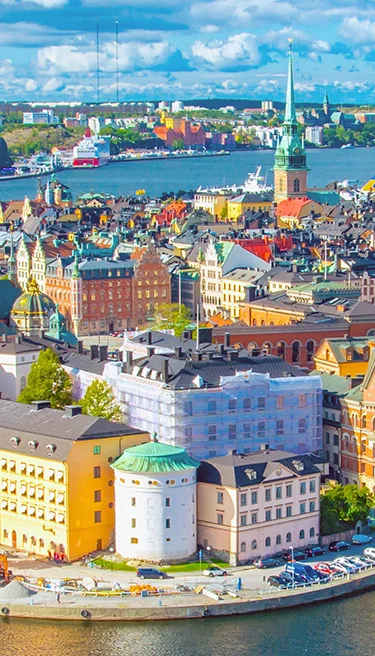 One of the top five most competitive economies in Europe and a country which often ranks within the top performing economies worldwide, Sweden possesses a strong business climate. It is globally competitive, thanks to the free-market environment and their developed education system.
Download PDF
Due to a stable and strong economy, Sweden presents an attractive location for foreign investment and is extremely business friendly. Sweden ranks 10th out of 190 economies for ease of doing business (World Bank's Doing Business report for 2020).
Entity Registration and Incorporation Requirements
Setting up a new business or expanding an existing one in Sweden is straightforward. Choose how your company operates from a range of entity types which suit your individual circumstance.
Banking
Banking Hours: Monday - Friday from 10:00 am - 3:00 pm
Working Week
The standard working week is from Monday to Friday from 9:00 am - 5:00 pm
Labor Law
Strict labor laws ensure workers have strong protections in place. In January 2022, the government decided on two proposals on a labor law reform and a new career transition assistance scheme that aims to improve flexibility, adaptability and security in the labor market in the long term.
Download PDF
Main Industries
Motor vehicles, telecommunications, pharmaceuticals, industrial machines, precision equipment, chemical goods, home goods and appliances, forestry, iron, and steel
GDP Growth
4.70%
Dates & Numbers
yyyy/mm/dd
Official State Name
Kingdom of Sweden
Population
10.35 million
Capital
Stockholm
Major Languages
Swedish
Currency
Swedish Krona kr
Internet Domain
.se
International Dialing Code
+46
Stockholm, SE
9:17 pm, September 29, 2023
14°C
While there is no mandate for a minimum wage, trade unions may have their own agreements in place. Local laws, regulations and business practices may change depending on circumstances and evolve. This requires companies to keep up to date on various changes in order to avoid penalties, increased costs or potentially, civil or criminal litigation.
It is acceptable to provide employees with online payslips
Payslip
Payroll report must be kept for 10 years
Reports
25 days per year
Annual Leave
Paid sick leave is compensated to the employee for the 2nd - 14th day of sick leave by the employer. For more than 14 days, benefits are paid by social security.
Sick Leave
14 weeks of paid maternity leave and 10 days of paid paternity leave
Maternity & Paternity Leave
1 month notice
Employee Termination
13th month payments are not compulsory. Paid as a bonus at the employer's discretion
13th month salary
There is no official national minimum wage
Minimum Wage
Overtime before 8.00 pm - Compensated at the monthly salary divided into 94 for each additional hour of work.
Read more
For hours worked after 8.00 pm, hours are compensated at the monthly salary rate divided into 72 for each additional hour worked
Overtime
The terms relating to this payment are outlined in the employment contract / collective agreement. There is no legal obligation to pay any severance
Severance Pay
There are multiple social services programs including nationwide health programs and other benefits. Swedish residents are also subject to tax on their worldwide income and capital gains. The Ministry of Health and Social Affairs within the Ministry in the Government Offices looks after issues concerning the welfare of society.
Tax
Various taxes may apply such as excise duties, real estate, stamp and payroll taxes as well as social security fees. Additionally, the individual tax rate is high. Employers report and pay employer taxes and deducted taxes to the Swedish Tax Agency.
20.6%
Corporate Income Tax
52.9%
Personal Income Tax
Social Security
Social insurance is administered by the Swedish Social Insurance Agency and the Swedish Pensions Agency.
38.4%
Social Security Rate
31.4%
Social Security Rate for Employers
7%
Social Security Rate for Employees
There are a number of laws governing the employment relationship including the Employment Protection Act 1982/80, Work Environment Act 1977/1160 and the Working Hours Act 1982/673.
Employment Agreement
Typically, written employment agreements are to be put in place which must set up the conditions relating to the position and the term is usually indefinite. Under certain circumstances, a fixed term agreement may apply (typically for temporary work or seasonal employment).
Working condition
Regular working time may not exceed 40 hours per week. If the nature of the business demands, this may change to accommodate but not for a period longer than four weeks. SAWEE (Swedish Agency for Work Environment Expertise) serves as the national work environment knowledge center to oversee safety and health at work.
Leaves
Swedish parents are offered 480 days of paid parental leave. Workers have at least 25 days of annual holiday leave. Sweden also offers 480 days of subsidized leave per child with 390 of those days paid at about 80% of their salary.
Employment termination
Regulations for termination of employment are set out in the Swedish Employment Protection Act (SFS 1982:80) which protects employees from wrongful dismissal and limits the freedom of employers to lay off staff. Additionally, most collective agreements contain regulations regarding layoffs and dismissal. An employer and employee can also choose to agree about terminating employment known as a voluntary agreement.
1 month
Minimum notice period for terminating an employee
10
Total number of public holidays
40
Working hours per week
4 weeks
Total number of days for Compassionate & Bereavement Leave
Work permits are not required if the individual has a permanent residence permit, a special permit to work as a researcher, is an asylum seeker, has a residence permit to attend a college or university or is a citizen of an EU country. In all other cases, a work permit is required in order to work in Sweden.
Residency permits
Companies that operate international payroll should take note that an individual must be offered a job before they are able to obtain a work permit. They are not able to enter Sweden until the permit is granted. A work permit cannot be obtained to enter and look for a job. Certain occupations and the citizens of certain countries are subject to special regulations for working in Sweden, For employment that lasts less than three months, the citizens of certain countries must have both a work permit and a visa.
Work Permit validity
Required Documents
Valid passport
An employment offer that complies with the terms set by Swedish collective agreements or which are standard for the occupation
A monthly salary offered of at least 13,000 SEK (1,480 USD) before taxes, or offered a salary that is on par with the position
The offer of employment includes health insurance, life insurance, and social security
Compliant, reliable, error-free and touchless payroll in Sweden
Build the best team and hire top talent compliantly in Sweden. Get in touch with Sweden payroll outsourcing & PEO specialists for a free consultation!
Download PDF
This document was prepared for informational purposes only. As local laws & regulations keeps on changing. Please consult your tax & legal advisors as well.
Tell us where you want to grow.
Our team regional experts are here to support you with global expansion plans.