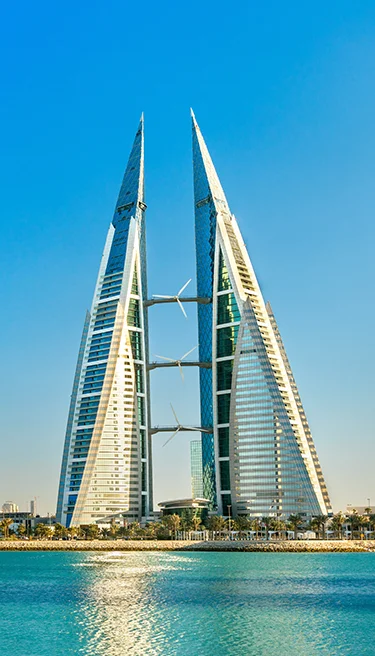 The most diversified economy in the GCC region, Bahrain offers investors a pro-innovation business and regulatory climate and minimal hurdles for creating and operating a company. The country's growing economy is filled with many exciting investment opportunities which, paired with its strategic location, makes it an excellent environment to start a business. Further, Bahrain has invested in becoming a digital economy and the region's FinTech hub.
Download PDF
Bahrain represents an attractive avenue to explore. Over USD32 billion dollars have been invested in infrastructure, property and regulatory initiatives, which are in advanced stages of progress. Additionally, certain target sectors are prioritized to drive further foreign investment. Prime opportunities exist in the financial services, manufacturing, logistics, tourism, real estate, healthcare, education and technology. An added benefit to businesses is the fact that there are no restrictions on capital repatriation, currency exchange or transfer of dividends.
Entity Registration and Incorporation Requirements
Setting up a new business or expanding an existing one in Bahrain is straightforward. Choose how your company operates from a range of entity types which suit your individual circumstance.
Banking
Banking Hours: 7:30 am to 2:00 pm from Sunday to Thursday
Working Week
The standard working week is from Sunday to Thursday from 7:00 am - 2:00 pm
Labor Law
The LMRA (Labor Market Regulatory Authority) regulates the labor market and protects the rights of employers and expatriate workers. A new labor law was issued in 2012 replacing the older one. The new law revitalizes the private sector by improving work conditions, introducing clear terms for employing domestic staff, prohibiting discriminatory practises and including enhancements for leave and dispute resolution.
Download PDF
Main Industries
Petroleum processing and refining, aluminum smelting, iron pelletization, fertilizers, Islamic and offshore banking, insurance, ship repair, tourism
GDP Growth
5.72%
Dates & Numbers
dd/mm/yyyy
Official State Name
The Kingdom of Bahrain
Population
1.702 million
Capital
Manama
Major Languages
Arabic
Currency
Bahraini dinar
Internet Domain
.bh
International Dialing Code
+973
Manama, BH
11:11 am, September 22, 2023
38°C
The Wages Protection System (which covers all sectors) requires the private sector employer to pay worker wages through banks and financial institutions licensees from the Central Bank according to specific dates.
It is acceptable to provide employees with online payslips
Payslip
Payroll reports must be kept for 10 years
Reports
Employees are entitled to 30 days of paid annual leave
Annual Leave
Employees are entitled to 55 days of sick leave wherein only the first 15 days are fully paid
Sick Leave
75 days of maternity leave where only the first 60 days are fully paid. There is only one day of paid paternity leave
Maternity & Paternity Leave
Lawful termination requires one month notice
Employee Termination
Not mandated by law
13th month salary
Bahrain doesn't have a statutory minimum wage
Minimum Wage
If an employee has worked over 40 hours, they must be compensated at an extra 25% (day shift) or 50% (night shift)
Overtime
This is calculated at 15 days salary for each year for the first three years. From the 4th year, it is 30 days' salary for each year
Severance Pay
For companies which operate a multi-country payroll, it is important to note that the concept of tax residence is not recognised in Bahrain. Social insurance and pensions are paid in Bahrain, administered by the SIO (Social Insurance Organization)
Tax
The tax resident employee is not applicable in Bahrain. Non-tax resident employees pay no income tax in Bahrain.
Social Security
Non-Bahraini employees pay 1% of their salary as social security contributions. These payments are made by the employer, to the social security organization, on behalf of employees.
12%
Social Security Rate for Employers
7%
Social Security Rate for Employees
Labor law offers protection to all types of workers, whether they are part-time, full time, local or expatriate. Expatriate workers have the right to transfer to another employer but there are different rules in place depending on whether the transfer is with or without employer consent and when transfers occur in the case of an expired work permit.
Employment Agreement
The employment relationship is governed by the Labor Law for the Private Sector (Law No. 36 of 2012). It applies to Bahrainis and non-Bahrainis employed in Bahrain as well as Bahrainis working abroad (where the employment agreement is governed by Bahraini law). Employment contracts must be in writing, in Arabic.
Working condition
Post COVID-19, employers are free to set their rules to ensure the safety of the workplace. Where the employee does not abide by these rules, the employee may be dismissed according to labor law.
Leaves
It is possible for an employer to request an employee to serve a period of garden leave. Female employees are entitled to maternity leave on full pay for 60 days. There are, however, no other parental leave rights that employers are required to observe. Employees are entitled to 30 days of annual leave and they are entitled to receive payment in lieu of the accrued leave days.
Employment termination
An employee may be dismissed without notice or compensation in certain situations, including where the employee has assumed a false identity, fails to comply with written instructions and does not attend the workplace without legitimate cause. Bahrain labor law stipulates that the notice period to terminate employment shall not be less than 30 days. However, where a much longer notice period was articulated in the employee's contract, the employer is bound by that notice period.
1 month
Minimum notice period for terminating an employee
10 days
Total number of public holidays
40
Working hours per week
3 days
Total number of days for Compassionate & Bereavement Leave
Foreign nationals who wish to live and work in Bahrain must submit requests for appropriate visas and permits. The LMRA issues work permits and renewals, entry visas and residence permits. Where an expatriate worker has a multiple entry permit, the permit must be canceled prior to submitting a new work permit application (whether the expatriate is in Bahrain or abroad). Where the foreign employee fails the required medical examination, the employer must process the deportation of the foreign employee immediately.
Residency permits
The residency permit (family visa) must be submitted to the LMRA and is issued by the General Department for Nationality & Passport Residence. Relevant documents that must be submitted include the application form, the employee and their family's passport copies, the employee's sponsorship letter and employment contract as well as the family's health records from an authorized clinic.
Work Permit validity
Required Documents
A completed visa application form
The employee's passport
A passport-size photo
Copy of the contract with the employee's name, birth date, and nationality
Health record from an authorized clinic
Proof of payment of BD 100 fee
Compliant, reliable, error-free and touchless payroll in Bahrain
Build the best team and hire top talent compliantly in Bahrain. Get in touch with Bahrain payroll outsourcing & PEO specialists for a free consultation!
Download PDF
This document was prepared for informational purposes only. As local laws & regulations keeps on changing. Please consult your tax & legal advisors as well.
Tell us where you want to grow.
Our team regional experts are here to support you with global expansion plans.