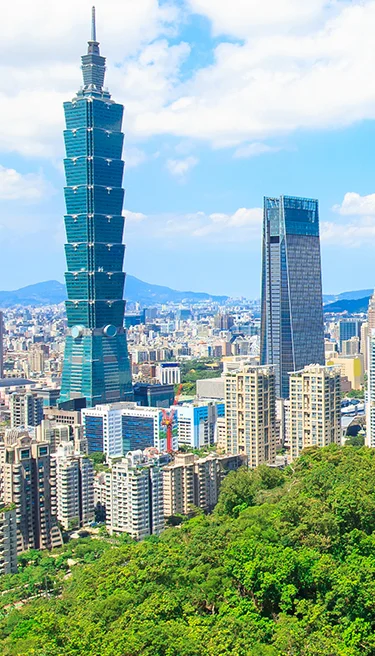 The world's 17th largest exporter of merchandise in 2019, Taiwan has been deepening its ties across the board with 10 Association of Southeast Asian Nations member states, six South Asian countries as well as Australia and New Zealand. It is also a top player in terms of the world's ICT industry and a major supplier of goods across the industrial spectrum.
Download PDF
Taiwan's "State of Cluster Development" is ranked third in the world according to the World Economic Forum's Global Competitiveness Report 2019. The government launched, a few years ago, three major investment programs designed to give Taiwanese businesses greater confidence to invest in Taiwan: the Welcome Back Action Plan (for welcoming overseas Taiwanese businesses to return), the "Action Plan for Accelerated Investment by Domestic Corporations" and finally, the "Action Plan for Accelerated Investment by SMEs".
Entity Registration and Incorporation Requirements
Setting up a new business or expanding an existing one in Taiwan is straightforward. Choose how your company operates from a range of entity types which suit your individual circumstance.
Banking
Banking Hours: Monday to Friday from 9:00 am-3:30 pm
Working Week
The standard working week is from Monday to Friday from 9:00 am-6:00 pm
Labor Law
The most important legislation addressing employment issues is the Labor Standards Act (LSA) which regulates the terms and conditions of employment. With a few exceptions, it applies to all industries and occupations. These laws also apply to foreign nationals working in Taiwan.
Download PDF
Main Industries
Electronics, petroleum refining, armaments, chemicals, textiles, iron and steel, machinery, cement, food processing, vehicles, consumer products and pharmaceuticals
GDP Growth
0.27%
Dates & Numbers
yyyy/mm/dd
Official State Name
The Republic of China
Population
23.57 million
Capital
Taipei
Major Languages
Mandarin Chinese
Currency
New Taiwan Dollar NT$
Internet Domain
.tw
International Dialing Code
+886
Taipei, TW
3:17 am, September 30, 2023
27°C
Companies who operate multi-country payroll should take note that, in Taiwan, it is common to reward employees with bonuses. These details are usually specified in the employer's work rules.
It is acceptable to provide employees with online payslips
Payslip
Payroll reports must be kept for 5 years
Reports
10 days of annual leave for a service of 2+ years
Annual Leave
30 days of sick or medical leave with 50% of pay
Sick Leave
8 weeks of paid maternity leave and 5 days of paid paternity leave
Maternity & Paternity Leave
10 days notice for 3 months to 1 year of employment
Employee Termination
This is generally paid during the lunar new year
13th month salary
24,000 TWD per month
Minimum Wage
Up to 2 hours of overtime; 1.34 times the regular hourly wage
Overtime
1 month salary for each year of employment
Severance Pay
Income tax is levied on Taiwan-sourced income of both resident and non-resident individuals except where exempt. The compulsory social security programs include the LIP ( Labour Insurance Program), NHIP (National Health Insurance Program) and the LPP (Labour Pension Program).
Tax
In addition to regular income tax calculations, Taiwan also imposes IBT (Income basic tax) at a flat rate of 20% on individuals who are tax residents in Taiwan.
Social Security
Employers must make social security contributions including to the NHIP, LIP and LPP. Employers who have a legal presence in Taiwan must also contribute towards the insured's employment service insurance premium.
15.7%
Social Security Rate
12.1%
Social Security Rate for Employers
3.6%
Social Security Rate for Employees
The law distinguishes between different categories of worker such as employee and independent contractors. Statutory employment rights are enjoyed by employees (whether these are fixed-term workers or permanent workers) but not by independent contractors
Employment Agreement
Typically, employment contracts are regarded as permanent employment contracts unless they specify as being a fixed-term contract. Employment contracts that relate to temporary or short-term work (less than six months) or seasonal work (less than nine months) are usually considered as fixed-term contracts.
Working condition
Overall work hours must not exceed 12 hours per day. However, the LSA (Labour Standards Act) now provides that overtime can be calculated over a consecutive three month period by employers. In terms of overtime, employers must comply with the requirement to record employee work attendance.
Leaves
Paid holiday entitlement is based on length of service with the employer, which is calculated from the date employment is commenced. The period for calculation (whether based on service years, calendar years, fiscal years or any other kind of system) is to be agreed between employer and employee.
Employment termination
Any termination of an employment contract must be according to the circumstances that are specifically allowed (that is either termination with notice and severance pay or termination without notice or severance pay)
10 days
Minimum notice period for terminating an employee
20
Total number of Public Holidays
40
Working hours per week
8 days
Total number of days for Compassionate & Bereavement Leave
Foreign nationals who intend to live in Taiwan for longer than six months must apply for a Resident Visa. Foreign nationals who wish to reside in Taiwan for an extended period of time must also comply with Taiwanese immigration law.
Residency permits
A Resident Visa is normally a single entry visa, valid for three months from date of issue. Visa holders must enter Taiwan before the expiration date indicated on the visa.
Work Permit validity
Required Documents
Passport that is valid for a minimum of six months after entry
Two passport-sized color photographs (with a white background) that were taken within the last six months
An approved work permit
A health certificate issued within the past three months
Additional documents regarding the employee's profession
Identification documents for a spouse or children who accompany the employee
Compliant, reliable, error-free and touchless payroll in Taiwan
Build the best team and hire top talent compliantly in Taiwan. Get in touch with Taiwan payroll outsourcing & PEO specialists for a free consultation!
Download PDF
This document was prepared for informational purposes only. As local laws & regulations keeps on changing. Please consult your tax & legal advisors as well.
Tell us where you want to grow.
Our team regional experts are here to support you with global expansion plans.