 Oracle Cloud HCM integration with Mercans' Global Payroll
Integrating your payroll with this cutting-edge solution will add significant value and increase process visibility for improved decision making within your organization.
Compliant, configurable payroll available across 160 countries worldwide.
Book a free consultation
Leverage the seamless data flow between Oracle Cloud Human Capital Management (HCM) and Mercans' HR Blizz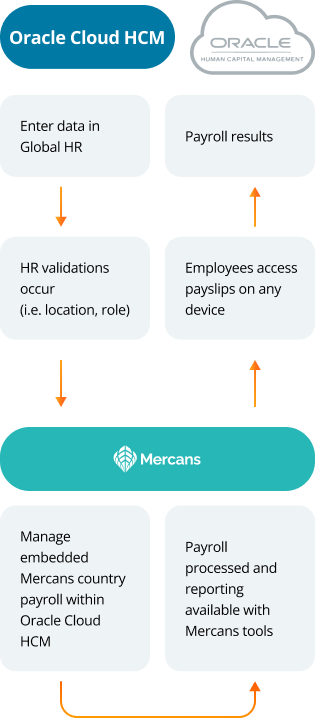 How does the Oracle integration work?
All Payroll inputs from Oracle Cloud HCM passed to Mercans' HR Blizz™ through the standard connector.
All Employee Payslips, Statutory & Payroll Reports back to Oracle Cloud HCM, after payroll processing from Mercans Payroll platform HR Blizz™.
REQUEST A DEMO Trusted choice worldwide for global payroll
Mercans' HR Blizz is the preferred payroll and HRM SaaS suite for reputable companies from across the globe.
Resources Discover how Mercans ensured a smooth payroll transition to a single solution and software platform while improving payroll accuracy and timeliness and provided exceptional customer experiences.
Payroll Transition Learn how Mercans recently assisted a leading global professional services and IT consulting firm without missing a beat and ensuring that all payrolls were processed on time and error-free, throughout this complicated transition.
HCM Transition Watch to know how Mercans' cloud-based HRM & Payroll SaaS suite – HR Blizz™ gives HR pros a way to easily manage daily tasks in payroll, benefits, talent, and workforce management.
Watch video
Discover Mercans' integration capabilities with other leading HCM suites
Contact Mercans today to discover how your organization can benefit from enhanced HCM services and a unified HR and Payroll platform.
Get Started