Safeguard Your Business from Payroll Fraud with Payroll Data Analytics
Payroll fraud can wreak havoc on businesses, causing significant financial losses. Are you equipped to detect and prevent fraud within your organization's payroll system?
According to the Association of Certified Fraud Examiners, payroll fraud affects 27% of all businesses.
Payroll fraud can take various forms, including employees increasing their salary payments, creating a fake employee to collect wages, falsely claiming extra work hours, manipulating sales records for commissions, and making fraudulent expense claims.
But fear not, because Mercans Payroll Data Analytics service is here to help you identify and mitigate payroll anomalies, protecting your business from potential fraud.
Detecting Payroll Anomalies:
Mercans' Payroll Data Analytics service utilizes advanced techniques to uncover common anomalies in your payroll system. Our analysis includes:
Duplicate employee details
Duplicate bank accounts
Employees with no Tax File Number
Employees sharing bank account details with suppliers.
Employees with excessive working hours
Pay rates not aligned with award rates or equivalents.
Employees with unusually high overtime or allowance payments
Gross Reasonability Check (GRC)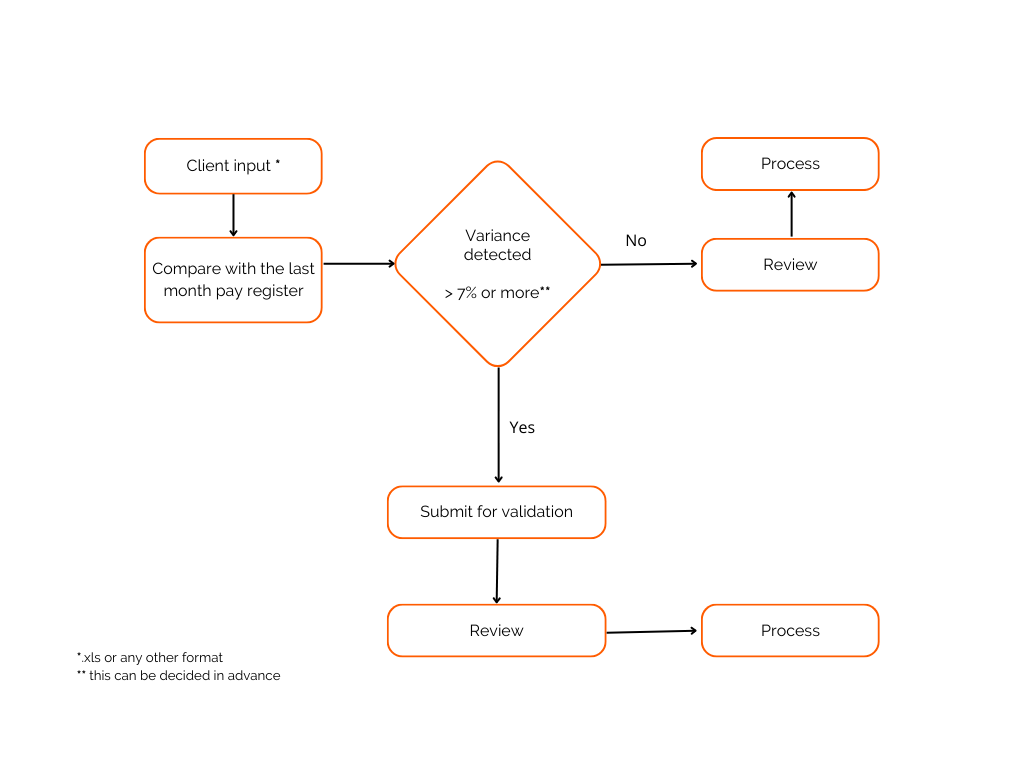 Building the current pay register based on last month's pay register
R1 Last month's pay register
Building the pay register based on the salary input
R2 Regular pay register
By thoroughly examining these areas through the variance reporting of comparing pay elements, we can pinpoint potentially fraudulent activities and address them promptly.
Certified Professionals at Your Service:
Our team comprises highly qualified professionals, including Certified Fraud Examiners and Chartered Accountants. With their expertise, we can conduct comprehensive analyses of your payroll transactions, effectively identifying any suspicious or irregular activities. Our professionals combine accounting knowledge, software proficiency, and investigative skills to ensure a thorough examination of your payroll data.
Mitigating Risk and Ensuring Compliance:
The risk of payroll fraud can have severe implications for your business. By leveraging our Payroll Data Analytics service, you can protect your bottom line while identifying key risks to your payroll processes. Our independent review of your organization's payroll data provides assurance that any signs of misappropriation or irregularities will be uncovered for investigation, mitigating potential risks before they escalate.
Stay One Step Ahead of Payroll Fraud with Mercans' Payroll Data Analytics
Mercans Payroll Data Analytics Experts
UKRAINE
Polina Kulbach
Polina works collaboratively with clients and avoids 'us and them' situations. Strong command of technologies – Java and Dell Boomi integration platform. Strong hold on Python, Android development, and Microsoft Dynamics 365 projects.
ESTONIA
Alexey Drozdov
Alexey comes with extensive product analytics and commercial business experience.
PAKISTAN
Shahid Farooq
Shahid is an expert in payroll reporting, product integration & data analytics.
Bottom Line:
Don't let payroll fraud go undetected. Safeguard your business with Mercans' Payroll Data Analytics service. By leveraging advanced analytics and employing a team of certified professionals, we help you detect and prevent payroll anomalies that may indicate fraudulent activities. Our service ensures compliance, protects your bottom line, and provides you with the peace of mind to focus on running your business confidently.
Stay one step ahead of payroll fraud with Mercans' Payroll Data Analytics. Choose our expertise to keep your payroll system secure and ensure the integrity of your payroll processes. Let us help you safeguard your business and mitigate the risks associated with payroll fraud.