Egypt – Income Tax Law Changes Announced.
Mercans, a leading Egypt payroll outsourcing, PEO/GEO, employee leasing, recruitment and BPO services provider, has published Egypt payroll outsourcing alert. Subscribe to Mercans' Egypt payroll outsourcing alerts to ensure that you are always up-to-date with the lasted regulatory changes in Egypt labor and payroll compliance requirements.
The below alert is an update to the Statury Change Alert issued by Mercans on 31 May 2020 and clarifies the timing of the changes related to personal income tax exemtions and rates in Egypt.
On 7 May 2020, the government of Egypt issued Law Nr. 26 of 2020, which amends articles 8, 13 and 87 of the Tax Law Nr. 91 of 2005. The respective amendments have been summarized below.
Effective from June 2020, the annual personal tax exemption amount increased from EGP 7,000 to EGP 9,000.
Effective from 1 July 2020, the law abolishes tax discounts on the income of natural persons and modifies the progressive tax rates and creates a new bracket for annual taxable income in excess of EGP 400,000, which will be taxed at 25%.
The new rates will apply to salary income and salary equivalents, income from commercial and industrial activities, revenue from non-commercial activities, and real estate revenue.
The amended tax brackets, effective from 1 July 2020, have been summarized below: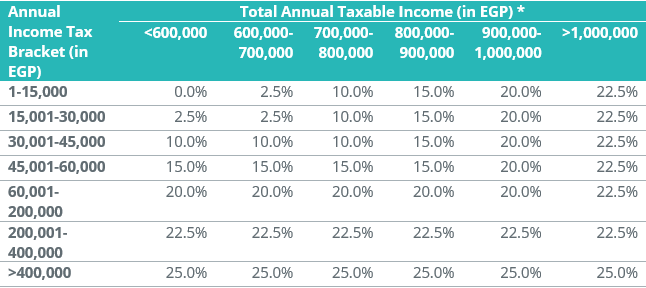 * The annual net taxable income should be rounded to the nearest 10 EGP for the PIT calculation purposes.
20% penalty is applied if the final tax due exceeds the declared amounts by less than 50%. 40% penalty will be applied if the difference is more than 50%.
Mercans' Egypt Payroll Outsourcing Solutions
While Mercans' Egypt Payroll Outsourcing alerts will allow you to stay on top the latest development in Egypt's payroll regulations, you should still get in touch with Mercans' Egypt payroll outsourcing, compliance, PEO/GEO and BPO specialists for a free consultation on setting up fully compliant payroll and HR functions. Better yet, outsource your payroll and HR activities in Egypt to Mercans and our Egypt payroll outsourcing experts will ensure that your employees will always be paid on time and in accordance with the Egypt regulations.
Download PDF: Mercans Egypt Payroll Outsourcing Alert Updated