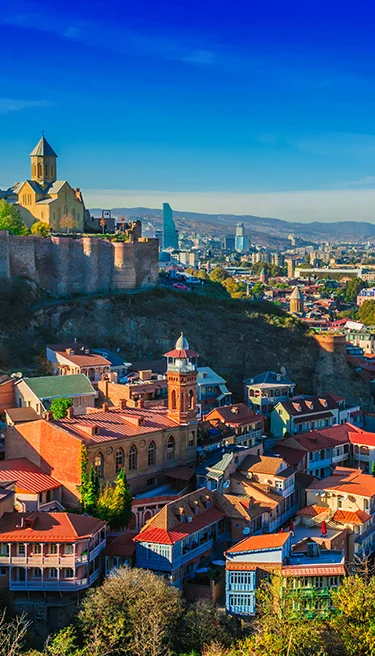 Known as the oldest wine region in the world, Georgia (or as it's called "Sakartvelo") is geographically well positioned as a gateway between Europe and Asia. Having locked in numerous free trade agreements, Georgia meets many of the requirements to become a regional financial and business center. Its stable and growing economy, competitive costs and investments in infrastructure and education as well as its market-oriented economic policy support large-scale impact investments in the country.
Download PDF
Thanks to thriving tourism and rising export of goods, foreign direct investments are projected to remain robust. Georgia boasts well-recognized international rankings: 7th position in the World Bank's 2020 Ease of Doing Business index and 12th in the Index of Economic Freedom 2020. Key sectors including business process outsourcing, electronics, automotive and aerospace, hospitality and real estate, energy, logistics and distribution and advanced manufacturing. Other factors supporting the establishment of business include the presence of a skilled workforce, attractive tax rates and lower operating costs.
Entity Registration and Incorporation Requirements
Setting up a new business or expanding an existing one in Georgia is straightforward. Choose how your company operates from a range of entity types which suit your individual circumstance.
Banking
Banking Hours: 9:30 am to 5:30 pm from Monday to Friday
Working Week
The standard working week is from Monday to Friday from 9:00 am - 6:00 pm
Labor Law
The main sources of employment law in Georgia are the Constitution, the Labor Code, the Civil Code and the Law of Georgia on Occupational Safety. The most significant principle of the Code is the prohibition against discrimination which applies not just to labor relations but at the pre-contractual stage as well.
Download PDF
Main Industries
Steel, machine tools, electrical appliances, mining (manganese, copper, gold), chemicals, wood products, wine
GDP Growth
9.10%
Dates & Numbers
dd/mm/yyyy
Official State Name
Georgia
Population
10.62 million
Capital
Tiblisi
Major Languages
Georgian
Currency
Georgian lari ლ
Internet Domain
.ge
International Dialing Code
+995
Georgia
Please set your valid city name and country code.
The applicable laws relating to payroll are the Tax Code of Georgia and the Labor Code of Georgia. The Law of Georgia on Public Service regulates employment issues related to public servants. Remuneration is generally paid once a month and is taxed through monthly payroll withholding taxation.
It is acceptable to provide employees with online payslips
Payslip
Payroll reports must be kept for 7 years
Reports
Employees are entitled to 24 days of paid annual leave
Annual Leave
30 days of paid sick leave
Sick Leave
126 days of paid maternity leave and 5 - 7 days of paid paternity leave
Maternity & Paternity Leave
30 days notice
Employee Termination
This is not compulsory but can be paid as a bonus based on performance
13th month salary
The minimum wage depends on the employer and what is agreed in the collective agreement
Minimum Wage
Overtime for work exceeding 48 hours per week is paid at 150% of the salary rate
Overtime
The employee is entitled to 1 month salary pay after the termination of the employment contract
Severance Pay
Resident individuals are exempt from tax on income that is not derived from a Georgian source. Personal income is subject to a flat tax rate of 20%. Companies who operate a multi-country payroll should take note that there are no social security contributions in Georgia.
Tax
There is also a special tax regime whereby individuals with annual turnover of less than 30,000 Georgian lari, have no employees, and who register as a micro business will be exempt from tax on their business income.
Social Security
From January 2019, joining a pension scheme is mandatory for all employees except individuals who would have been 60 years of age before the law was enacted and those who are self-employed. The pension scheme is financed by the employer, employee and the government.
--
Social Security Rate for Employers
-
Social Security Rate for Employees
The underlying principle of the Labor Code is that the employment contract must not put an employee in a worse position compared to the minimum standards established by the Code.
Employment Agreement
Generally, employment contracts must be in writing. However, an employment contract can be oral if the relationship does not exceed three months. The minimum terms that must be present in the contract include the start date of work, work time and rest time, position and type of work, compensation and payment method, duration of paid and unpaid leave and the procedure for overtime work compensation.
Working condition
As a rule, work time may not exceed 40 hours per week, this does not include breaks or rest time. Exceptions include where the enterprise has specific operating conditions that require over eight hours of uninterrupted production or work. There are also specific requirements for employees under 18 and shift workers.
Leaves
Employees are entitled to at least 24 working days of paid leave and 15 days of unpaid leave annually. Employment contracts may contain different terms but in general, these terms must not worsen the position of the employee in relation to the employment relationship. An employee is also entitled to leave for pregnancy, childbirth and child care and this is compensated from the state budget up to 1,000 GEL.
Employment termination
The Code provides an exhaustive list of grounds on which an employment contract may be terminated which includes for economic circumstances, end of employment term, voluntary resignation, written mutual agreement, gross violation by employee of their obligations and more. Advance notice of termination does not always apply. An employer is obliged to provide written notice of at least 30 days in advance and severance pay of at least one month's salary when the termination of employment is on the following grounds: economic circumstances that require downsizing, incompatibility of the employee's qualifications or skills with the work to be performed, long-term disability, other objective circumstances justifying termination of the employment contract.
30 days
Minimum notice period for terminating an employee
17 days
Total number of public holidays
40
Working hours per week
4 weeks
Total number of days for Compassionate & Bereavement Leave
A work residence permit is issued to individuals coming to Georgia for entrepreneurial or labor activities as well as to freelance workers. A residence permit authorizes the foreign citizen to enter and stay in Georgia and to obtain such a permit, the foreign citizen must either apply personally (or via an authorized representative) to any territorial office of the Public Service development agency.
Residency permits
A residence permit is issued by the Public Service development agency within 30 days of receiving all relevant documentation. There are a number of residence permit categories including work residence permit, study residence permit, permanent residence permit, investment residence permit, temporary residence permit and more.
Work Permit validity
Required Documents
Completed and signed visa application form
Valid passport with at least one blank page for any entry stamp
Employment contract with a company based in Georgia
Proof of payment of the visa fee.
Compliant, reliable, error-free and touchless payroll in Georgia
Build the best team and hire top talent compliantly in Georgia. Get in touch with Georgia payroll outsourcing & PEO specialists for a free consultation!
Download PDF
This document was prepared for informational purposes only. As local laws & regulations keeps on changing. Please consult your tax & legal advisors as well.
Tell us where you want to grow.
Our team regional experts are here to support you with global expansion plans.