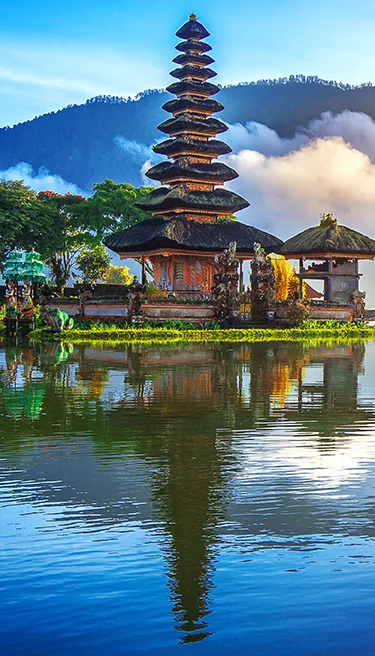 Ranked fourth as a global investment destination after India, China and the US, Indonesia is the largest economy in Southeast Asia. It is attractive for its large workforce and growing domestic market. Politically stable with a roaring tourism sector, Indonesia has a sound economy with many natural resources such as oil, natural gas, coal, copper, gold, tin, nickel and more.
Download PDF
Currently ranked 73 out of 190 countries, Indonesia has improved their ease of doing business. With a fast growing middle class, private consumption makes up a significant portion of GDP. Potential foreign investors can look to the BKPM (Indonesia Investment Coordinating Board) as a one-stop shop for the provision of business licenses and for setting up a local office.
Entity Registration and Incorporation Requirements
Setting up a new business or expanding an existing one in Indonesia is straightforward. Choose how your company operates from a range of entity types that suit your individual circumstance.
Banking
Banking Hours: Monday to Friday 8:00 am to 3:00 pm and Saturday 8:00 am to 1:00 pm
Working Week
The standard working week is from Monday to Friday from 8:00 am to 4:00 pm and Saturday from 8:00 am to 12:00 pm
Labor Law
The primary piece of legislation is Law No. 13 of 2003 on Employment (Employment Law). This is supported by other relevant laws, government regulations, ministerial regulations as well as presidential decrees. Employment law is generally considered to be in favor of the employee.
Download PDF
Main Industries
Palm oil, coal, petroleum, petrochemicals, liquified natural gas, automobiles
GDP Growth
-0.96%
Dates & Numbers
dd/mm/yyyy
Official State Name
The economy of Indonesia
Population
270.20 million
Capital
Jakarta
Major Languages
Indonesian
Currency
Indonesian Rupiah (IDR)
Internet Domain
.id
International Dialing Code
+62
Jakarta, ID
2:09 am, September 23, 2023
26°C
The minimum salary may be stipulated by the authority in each province and this may vary by industry.
Payslips are not provided to employees
Payslip
Payroll reports must be kept for five years
Reports
Employees receive paid annual leave of at least 12 days
Annual Leave
The number of days provided for paid sick leave to employees depends on the provision of medical confirmation of their ill-health
Sick Leave
There is provision for three months of paid maternity leave and two days of paid paternity leave
Maternity & Paternity Leave
Termination may be initiated by the employer through dismissal or by the employee through resignation
Employee Termination
A mandatory payment, the (THR) Tunjangan Hari Raya payment includes a base salary and a fixed monthly allowance only
13th month salary
IDR 4.60 million per month
Minimum Wage
Overtime payment is set at 1.5x the employee's regular rate of pay and includes 12 hours in any workday
Overtime
This is set at the rate of 1 - 2 weeks pay for every year worked
Severance Pay
Tax residents are taxed on their worldwide income. Foreign workers who become tax resident in Indonesia can be taxed only on Indonesia-sourced income. While there is no comprehensive social security system, there is a worker's social security program which is maintained by a designated state-owned company, BPJS Ketenagakerjaan.
Tax
There are no local taxes on individual income in Indonesia.
Social Security
Employees who have been working for at least 30 days must be enrolled in the national social security program (BPJS) which covers workplace accidents, death, retirement, pension, healthcare and medical expenses
7.74%
Social Security Rate
5.74%
Social Security Rate for Employers
2.0%
Social Security Rate for Employees
Employment law applies only to Indonesian citizen employees. Foreign workers who work in Indonesia are, however, regulated by the terms of their employment contract.
Employment Agreement
Employees may enter into either a fixed or indefinite term agreement. Where agreements are in writing, it must be in the Indonesian language but may include an English translation.
Working condition
The five day working week is common in the private sector since the government applied a five-day working week for civil servants and those working in state-owned businesses.
Leaves
Indonesian labor law and regulations permit an employer to require an employee to take garden leave during the termination period. This is a suspension of employment for which the employer must pay full salary and benefits during the leave period.
Employment termination
Any termination of employment must be done with a reason provided and as specified in prevailing labor laws and regulations, the company regulations, any collective labor agreement or employment contract.
30 days
Minimum notice period for terminating an employee
16
Total number of public holidays
40
Working hours per week
2 days
Total number of days for Compassionate & Bereavement Leave
Entry into Indonesia requires a visa, for which there are multiple visa categories including single entry, multiple entry and temporary stay visa for work (C312). The C312 visa is granted to foreign nationals who are experts or specialists employed in Indonesia by their sponsors.
Residency permits
WIth the C312 visa, an individual is allowed to stay in Indonesia for six months or 180 days, one year or two years depending on the application submitted. The stay permit may also be extended.
Work Permit Validity
Required Documents
A copy of the passport, valid for a minimum of 18 months
Proof of health insurance
Passport photos in color
A copy of the employee's highest educational qualification, which must be stamped and signed by the employer
A copy of the applicant's CV, which should also be stamped and signed
A work certificate that shows the applicant has at least five years of relevant experience.
Compliant, reliable, error-free and touchless payroll in Indonesia
Build the best team and hire top talent compliantly in Indonesia. Get in touch with Indonesia payroll outsourcing & PEO specialists for a free consultation!
Download PDF
This document was prepared for informational purposes only. As local laws & regulations keeps on changing. Please consult your tax & legal advisors as well.
Tell us where you want to grow.
Our team regional experts are here to support you with global expansion plans.