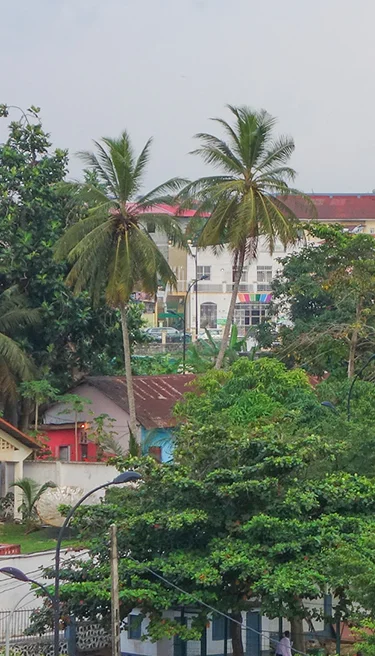 Located on the west coast of Africa, Equatorial Guinea's (formerly Spanish Guinea) economy traditionally depended on three commodities: cocoa, coffee and timber. However, the discovery of petroleum and natural gas in the 1980s changed the country's profile. Despite these changes, the majority of people are employed in agriculture.
Download PDF
Since the onset of the pandemic, the country has been proactive about safeguarding opportunities for investors and driving capital into its hydrocarbon resources. The government actively solicits foreign investments and has also taken steps to support small and medium enterprises including lowering tax payments, temporarily reducing the cost of electricity and providing small grants.
Entity Registration and Incorporation Requirements
Setting up a new business or expanding an existing one in Equatorial Guinea is straightforward. Choose how your company operates from a range of entity types which suit your individual circumstance.
Banking
Banking Hours: Monday - Friday from 8:00 am - 4:30 pm
Working Week
The standard working week is from Monday to Friday from 7:00 am - 3:00 pm
Labor Law
Equatorial Guinea was ranked 105 of 190 in the World Bank's Doing Business Report 2020 for 'enforcing contracts'. Labor courts adjudicate on matters related to employment but complaints have been raised about excessive penalties and cases not often being decided on its merits. On the whole, there is a consistent shortage of skilled labor and foreign laborers make up an important segment of the economy.
Download PDF
Main Industries
Petroleum, fishing, saw-milling, natural gas
GDP Growth
-5.80%
Dates & Numbers
dd/mm/yyyy
Official State Name
Republic of Equatorial Guinea
Population
1.403 million
Capital
Malabo
Major Languages
Spanish, French, Portuguese
Currency
Central African Franc (FCFA)
Internet Domain
.gq
International Dialing Code
+240
Equatorial Guinea
Malabo, GQ
10:20 am,
November 29, 2023
29
°C
scattered clouds
The minimum wage takes into account worker (and their families) needs including the cost of living, social security benefits, the level of employment, the relative standard of living and conditions, time and place in which the work takes place. Companies who operate a multi-country payroll system should note that where there are vacancies, this list needs to be sent to the Ministry of Labor, Employment Promotion and Social Security. If the ministry is unable to find a suitable candidate within 30 days, the company is then permitted to hire an expatriate worker.
It is acceptable to provide employees with online payslips
Payslip
Payroll report must be kept for 20 years
Reports
One month of paid annual leave
Annual Leave
Up to 26 weeks and paid at 50% of the standard rate
Sick Leave
12 weeks of paid maternity leave and 12 weeks of paid paternity leave
Maternity & Paternity Leave
The employer must make payment to leavers within ten consecutive days of the employee's last day
Employee Termination
Limited to 2 hours a day and 200 hours a year
Overtime
Severance compensation is equal to 10 working days' pay for each year of employment after the first year
Severance Pay
Tax payments are calculated according to the progressive tax scale and are withheld monthly by the employer and refunded to the Public Treasury within the first 15 days of the month following the month that salaries are paid out.
Tax
Taxable income comprises the individual's salary, bonuses or allowances, expenses refunded and any contributions in kind.
Social Security
Contributions are made to the National Institute of Social Security (INSESO) and to the Work Protection Fund (WPF).
4.5%
Social Security Rate
21.5%
Social Security Rate for Employers
26%
Social Security Rate for Employees
Labor laws generally favor the employee. Aside from a union of small farmers and the taxi association, the government does not recognize labor unions. Labor laws include provisions on employment, regulating which industries minors may work and specifying the need for written contracts.
Employment Agreement
Typically, companies cannot dismiss an employee without just cause and if dismissal is due to economic reasons, there will be a penalty due (which is lower than that for wrongful dismissal). However, companies who choose to suspend an employment contract can minimize their costs effectively. This suspension equates to a temporary interruption of the obligation to work for the employee and all of the employee's rights are paralyzed. However, suspension must be notified to the labor authority.
Working condition
The general rule is that work must be provided in conditions that allow for enough free time for rest, training, recreation and social life. Work conditions must also protect the worker from occupational accidents or diseases.
Leaves
To qualify for one month's leave, a worker must complete one year of continuous work. After 10 years of service, annual leave shall be increased one day per year worked.
Employment termination
Labor laws differentiate between layoffs and firing. The law favors the employee and employers must understand all of their legal obligations before taking a decision to dismiss.
N/A
Minimum notice period for terminating an employee
10
Total number of public holidays
40
Working hours per week
8 days
Total number of days for Compassionate & Bereavement Leave
The Ministry of Labour, Social Security and Promotion of Employment (MLSSPE) is charged with authorizing employment contracts. It also processes and issues authorizations of employment and work permits.
Residency permits
Except for United States, Tunisian and CEMAC citizens and Chinese diplomats, all foreign workers are required to apply for visas to enter Equatorial Guinea. CEMAC refers to the Central African Economic and Monetary Community which comprises six states: Gabon, Cameroon, Central African Republic, Chad, Equatorial Guinea and the Republic of Congo.
Work Permit validity
Required Documents
Completed visa application
One passport-sized photo
Copy of proof of yellow fever vaccination
Passport with six months' validity beyond the completion of the trip and with at least one blank visa page
Copy of the flight itinerary
A supporting letter from the company (if the applicant is traveling for business)
Compliant, reliable, error-free and touchless payroll in Equatorial Guinea
Build the best team and hire top talent compliantly in Equatorial Guinea. Get in touch with Equatorial Guinea payroll outsourcing & PEO specialists for a free consultation!
Download PDF
This document was prepared for informational purposes only. As local laws & regulations keeps on changing. Please consult your tax & legal advisors as well.
Tell us where you want to grow.
Our team regional experts are here to support you with global expansion plans.