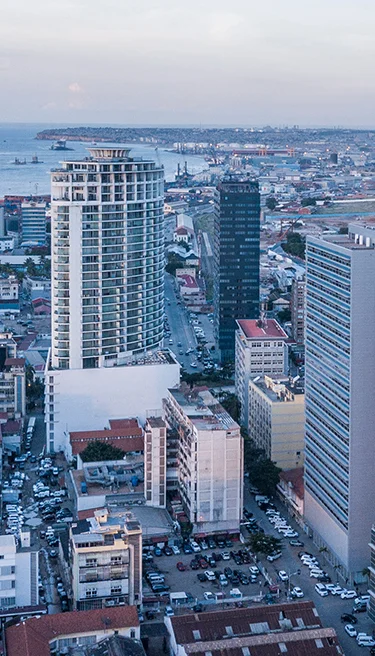 In Angola, there are three main ethnic groups each speaking a Bantu language but Portuguese is the official language. The civil legal system is based on Portuguese civil law. Angola is Sub-Sahara Africa's third largest economy which has made significant economic progress since the end of civil war in 2002. The country depends heavily on oil and gas (50% of the country's GDP and about 90% of the country's export). It was badly affected by the 2014 oil crisis and still recovering when the pandemic began. However, 2021 saw the Angolan economy recovering from a six year recession.
Download PDF
Angola has one of the largest national reserves of natural resources in Africa. Dominant industries include oil and gas, diamond industry and agriculture. Significant progress has been made in terms of macroeconomic stability and structural reform including preventing and combating money laundering, privatization program, banking sector re-capitalisation, public financial management reforms and more. In general, the business culture varies depending on the industry but it is typically formal and hierarchical.
Entity Registration and Incorporation Requirements
Setting up a new business or expanding an existing one in Angola is straightforward. Choose how your company operates from a range of entity types which suit your individual circumstance.
Banking
Banking Hours: 8:45 am to 4:00 pm from Monday to Friday
Working Week
The standard working week is from Monday to Thursday from 8:00 am to 7:00 pm and Friday from 2:30 pm to 5:30 pm
Labor Law
In Angola, no distinction is drawn between blue-collar and white-collar workers but there are two categories of worker: employees and self-employed contractors. The General Employment Law applies to all employment relationships and to Angolan citizens working in Angola or abroad.
Download PDF
Main Industries
Petroleum, diamonds, iron ore, phosphates, feldspar, bauxite, uranium, gold, cement, basic metal products, fish processing, food processing, brewing, tobacco products, sugar, textiles, ship repair
GDP Growth
1.20%
Dates & Numbers
dd/mm/yyyy
Official State Name
Republic of Angola
Population
32.87 million
Capital
Luanda
Major Languages
Portuguese
Currency
Angolan Kwanza (Kz)
Internet Domain
.ao
International Dialing Code
+244
Luanda, AO
4:29 pm, September 22, 2023
25°C
Employees have the right to a minimum wage. Companies who operate multi-country payroll should take note that depending on the economic group in which the employer is integrated, an employee may receive a higher wage.
It is acceptable to provide employees with online payslips
Payslip
Payroll reports must be kept for 5 years
Reports
Employees receive paid annual leave of 22 days
Annual Leave
Employees receive full pay for first two months and 50% if it exceeds two months
Sick Leave
3 months of paid maternity leave and no provision for paternity leave
Maternity & Paternity Leave
1 month
Employee Termination
There is a 13th and 14th month salary that is paid as 50% of the employee's monthly salary
13th month salary
21454.10 AOA per month
Minimum Wage
For 30 hours of overtime, employees are entitled to 150% of the regular pay
Overtime
Employees receive a severance pay of one month's salary for the first five years of employment
Severance Pay
The Personal Income Tax (PIT) code foresees the segmentation of income into groups namely, Group A (generally applicable to income earned by employees), Group B (income earned by the self employed) and Group C (income earned by individuals carrying out industrial or commercial activities). Individuals are also liable to social security contributions on their gross income.
Tax
Group B and C taxpayers are subject to the PIT in line with the regime provided for business and professional income. Individuals are also liable to IIT (investment income tax) on interest, dividends, royalties and any other income of similar nature.
Social Security
Foreign citizens working in Angola (without a residence permit) may be excluded from social security in Angola provided they can prove that they are covered by their home country's social security system.
8%
Social Security Rate for Employers
3%
Social Security Rate for Employees
There are different types of employment agreements such as indefinite employment agreements and fixed term/uncertain term employment agreements. Fixed term employment agreements may be successively renewed up to a maximum limit of five years. When those maximum limits expire, the fixed-term agreement will be deemed as an indefinite employment agreement. Unless the law expressly determines that a written form is to be adopted, parties are free to choose the form of their employment agreement. Collective agreements, while possible under the law, are few in practice.
Employment Agreement
When the employment agreement is in written form, it must include certain necessary terms including names of the parties, duration of work time, amount method and timing of the salary payment, place and date of the execution of the agreement. Written employment agreements are only mandatory for agreements entered into with foreign employees, trainees, employees hired to work on ships and stay at home employees.
Working condition
Normal working hours must not exceed 44 hours per week and eight hours per day. These limits can be reduced by collective bargaining or by law. However, despite the reduction in working hours, the employee's salary may not be reduced. Aside from the base wage, employees are also granted other benefits such as meal allowances, seniority payments, bonuses, subsistence allowances, residence allowances and family allowances.
Leaves
An employee must pay a vacation allowance (minimum 50% of the base wage corresponding to the vacation period) and a Christmas allowance (minimum of 50% of the wage salary).
Employment termination
Grounds for termination are also prescribed in the law and parties are forbidden from using other termination forms that are not set forth in the applicable law. The law lists several situations that could cause termination on disciplinary grounds such as unjustified absences exceeding three days a month, failure to comply with the work schedule more than five times a month, drunkenness or drug addiction and serious and recurrent disobedience.
1 month
Minimum notice period for terminating an employee
12
Total number of public holidays
40
Working Conditions
8 days
Total number of days for Compassionate & Bereavement Leave
There is only one visa option for short term employment in the oil and gas sector, that is the Short Term Visa (STV). It is issued for emergency work and allows the individual to conduct work offshore. It is valid for 10 days and allows for an extension of 10 days. This proves challenging at present due to the mandatory 10 day quarantine requirement in Angola as a result of the COVID-19 pandemic. It is also unfortunate that there has been inconsistency in the handling of this process, with some visas activated after the quarantine period and some being activated on entry. Generally, foreign employees require a working visa/residence permit to work in Angola. The Ministry of Public Administration, Employment and Social Security must give its consent to the foreign citizen work visa or permit.
Residency permits
There are different types of visas available including transit visa, tourist visa, short-term visa, ordinary visa, student visa, privileged visa, work visa, temporary stay visa, visa for establishing residence and diplomatic/official/courtesy visa. Documents must be translated into Portuguese and authenticated by the Department of State. Although a working visa is valid for the entire duration of the employment agreement under the foreign and non-resident employment regime, in practice, the authorities advise that the initial duration of the contracts cannot exceed 36 months. Residence permits can either be temporary or permanent.
Work Permit validity
Required Documents
Letter from the Angolan entity applying for a work permit, addressed to the Embassy (the letter may be in English)
Application forms duly completed (in duplicate).
Photocopy of the applicant's passport, with a validity of at least 18 months
Declaration by the applicant to abide by the laws of Angola (translated into Portuguese and legalized by the Notary Public and the Ministry of Foreign Affairs)
Declaration as to no existence of family relations with Angolan or foreign citizens living in Angola (such document to also be translated and legalized)
Two passport-sized photographs
The Contract of Employment or Contract of Promise of Employment (translated into Portuguese and legalized)
Extract from the Criminal Registry issued by authorities from the country of residence (translated into Portuguese and legalized)
Certificate of good health issued by an official health institution from the country of residence (translated into Portuguese and legalized)
Academic and professional certificates translated into Portuguese, authenticated by a notary and by the Consular and Diplomatic Mission of Angola
Curriculum vitae (dated and signed by the Applicant and witnessed by a Notary Public and the Ministry for Foreign Affairs. If written in a foreign language, the document must be translated into Portuguese before the legalization)
Proof of the legal status of the Contracting Institution (a photocopy of the Angola's Registrar of Companies certificate, proof of paid-up company tax in Angola and publication in the Government Gazette – ("Diário da República")
Statement pledging that the applicant will abide by all Angolan laws.
Compliant, reliable, error-free and touchless payroll in Angola
Build the best team and hire top talent compliantly in Angola. Get in touch with Angola payroll outsourcing & PEO specialists for a free consultation!
Download PDF
This document was prepared for informational purposes only. As local laws & regulations keeps on changing. Please consult your tax & legal advisors as well.
Tell us where you want to grow.
Our team regional experts are here to support you with global expansion plans.